Venture on innovation in foundation engineering "VIF", established in 1990 year in order to develop New Driven Piles, previously developed designs, for efficient replacement of conventional square piles.
The purpose of the enterprise: will achieve widespread use of pile foundations, performed by static indentation, which will lead to an increase in quality, reducing the cost of construction and increasing the life of the entire structure.
New efficient piles
More than a dozen types of Effective piles have been developed and patented, but the most widely used types of piles SVD (piles of vertical elements, United diaphragms) and piles of SV (trapezoidal cross-section with the widened on the side of). New piles allow saving of materials 1.6-2 times in comparison with the application of traditional precast piles.
Pile data (like others) immersed in the ground using diesel hammers with different impact power.
Piles are used with CB 1988 g. and now in many cities of Ukraine. Based on these piles, more than 500 objects.
For the manufacture and application of effective Svay design documentation, and registered specifications (TU).
Piles invented Kashka BZ, and under his leadership, design documentation and specifications were developed (TU).
Devices for pressing / pulling piles and other building structures.
B 1996 year also the enterprise "VIF" first developed, and put into operation first Device, capable of driving finished reinforced concrete piles by static indentation with effort 60 mc. While in Ukraine, and CIS countries analogues of this type of Devices completely were absent.
The first experimental cloud has proven itself well at sites during the construction of pile foundations, especially under severe conditions, and 1997 year, the equipment was actively used in some large cities of Ukraine.
A distinctive feature of the concept of data svaevdavlivayuschih devices is their prefabricated structure and the ability to move the pressing mechanism in two mutually perpendicular directions in area zahvatki.
---
Each subsequent period, using the experience, collective enterprise "VIF" released new versions of devices, increasing labor productivity, and increasing its efficiency.
The improvement of the technological design of pile pressing devices took place gradually, in several stages, namely:
1 phase. The first experimental samples of devices were manufactured in 1995 year, and their use has first been performed on the object in 1996 g. in Lutsk.
2 phase. B 1998 g. now "VIF" mechanism has been improved indentation - svaevdavlivayuschaya applied to the movement of the mast it is pressed during the dive mechanism piles. It is possible to increase the speed of piling more than 2 times.
3 phase. Improved data flow diagram Svaevdavlivayuschih Devices, widely applied to the present day, was first approved in 2000 year. Devices of this modification is applied in Ukraine 2001 Year in significant amounts in the construction of pile foundations. A mechanism has been developed for the implementation of leader drilling before pressing the piles.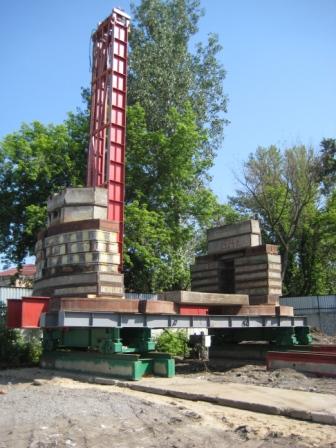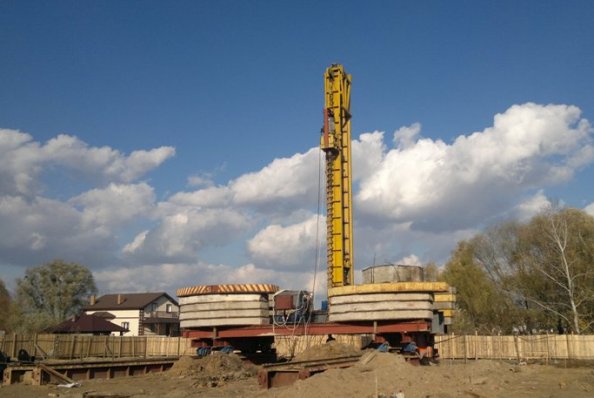 Currently, due to the fact, that the center of gravity of the construction in the city shifted to the construction of high-rise buildings, widespread pile, heavily loaded foundations. This led to the relevance and practical importance of developing universal equipment, optimal design, can dive w / w of the pile to a greater depth perception to high (200-300 mc) vertical load.
4 phase. 2012 year. Specialists of the enterprise "VIF" have developed a new device for pressing piles, which is ahead of the existing competitors at that time.
2015 year. The enterprise "VIF" has the ability to push piles with effort 250 mc. The speed and quality of work have increased several times.
5 phase. The company "VIF" does not stop there. Approaching a new "device for pressing piles", with capabilities superior to existing.
compact unit. Easy to handle. The force pressing - 250-300 mc. The speed of immersion - 30 and a pile of 8 hours.
Enterprise "VIF" and his team are always evolving, finding new and promising solutions in the field of construction.